"Invaluable"--Library Journal
Welcome to the virtual life drawing studio of the Twenty First Century! This series is dedicated to presenting the human form in a way that allows a deeper understanding of shape, form, and gesture. For professional and student artists alike, Virtual Pose ® is the next best thing to working with a live model—and the ultimate reference for amateur artists who have no access to studio sessions. Ranging from action to classic, standing to reclining, these carefully selected poses were designed to offer visually pleasing as well as challenging drawing, painting, and sculpting subjects. Furthermore, there is the choice of male and female models, making Virtual Pose ® an invaluable tool in every artist's reference library. Register today for the latest news, access to the online store, and free gifts!

Kindly note: This site and the links therein, contain tasteful artistic nudity which may not be appropriate for viewing in certain countries. Also, we ask that you do not enter this site if you are not 18 years old. Parental Guidance is suggested.

Privacy Statement
The Virtual Pose ® Collection is available under exclusive license from StudioView Interactive, LLC. All rights of the producer and the owner of the work reproduced reserved. Unauthorized copying, hiring, renting, public performance and broadcasting of the poses prohibited. Produced by StudioView Interactive, LLC. Copyright © 1998 by StudioView Interactive, LLC
Welcome to the virtual
life drawing studio of
the Twenty-First Century!
Above is a fully-functioning LOW RESOLUTION thumbnail QTVR preview. Please wait a few seconds for the 36 frames to load, then use your mouse to rotate the model back and forth. You can also zoom and drag the image after zooming. Click here for Keyboard commands. Original Pose 696x1000 pixels @ 100% magnification! To give you a tase of what's in store, check this out: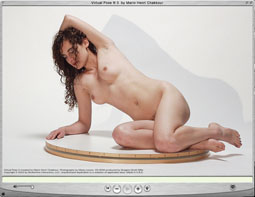 New! Register and Download HI RESOLUTION pose shown above from the Virtual Pose ® 3 collection! You have 36 views which you can print. Imagine the creative possibilites!

Register and download free QTVR poses from the Virtual Pose® 1, 2, and 3 Collection!