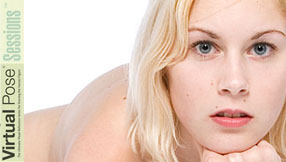 Above is a short movie clip showing Virtual Pose ® in action.

"Invaluable"--Library Journal
Welcome to the virtual life drawing studio of the Twenty First Century!

First introduced in 1998, this unique series is dedicated to presenting the human figure in a way that allows a deeper understanding of shape, form, and gesture. For professional and student artists alike, the Virtual Pose ® series is the next best thing to working with a live model — and the ultimate reference for amateur artists who have no access to studio sessions.
Over the course of the following decade, six volumes would be published, including "Virtual Pose ® Children & Teens" which featured clothed children and teen models. Following that, Virtual Pose ® went totally "green" by offering all new — and remastered — content via online download only.
This website is dedicated to the art of drawing, painting, and sculpting the human figure and contains tasteful artistic nudity which may not be appropriate for viewing in certain countries.

Also, we ask that you do not enter this site if you are younger than 18.

Parental Guidance is suggested.


Copyright © 1998 - 2014 by StudioView Interactive, LLC.