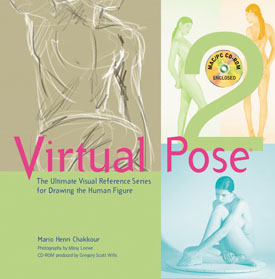 Join the New Art Revolution! ™
The iconic Virtual Pose ® series is dedicated to presenting the human figure in a way that allows a deeper understanding of shape, form, and gesture. For professional and student artists alike,
Virtual Pose ® (affectionately known as "VP") is the next best thing to working with a live model, and the ultimate reference for amateur artists who have no access to studio sessions. Virtual Pose ® features figure models in artistic poses that can be smoothly rotated, at will, in real time, a full 360 degrees
on-screen, zoomed-in on, panned, printed, and projected. All is needed is a free QuickTime VR (QTVR) viewer: a couple of MAC/PC compatible options are available to the artist.

Virtual Pose ® is MAC/ PC/ iPhone/ iPad compatible!
Between 1998 and 2008, six hard-cover books with CD-ROM's would be published,
including "Virtual Pose ® Children & Teens," which featured clothed children and teen models.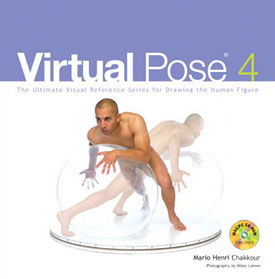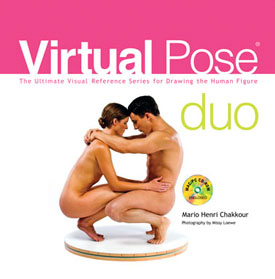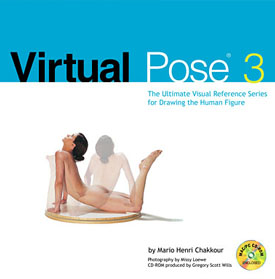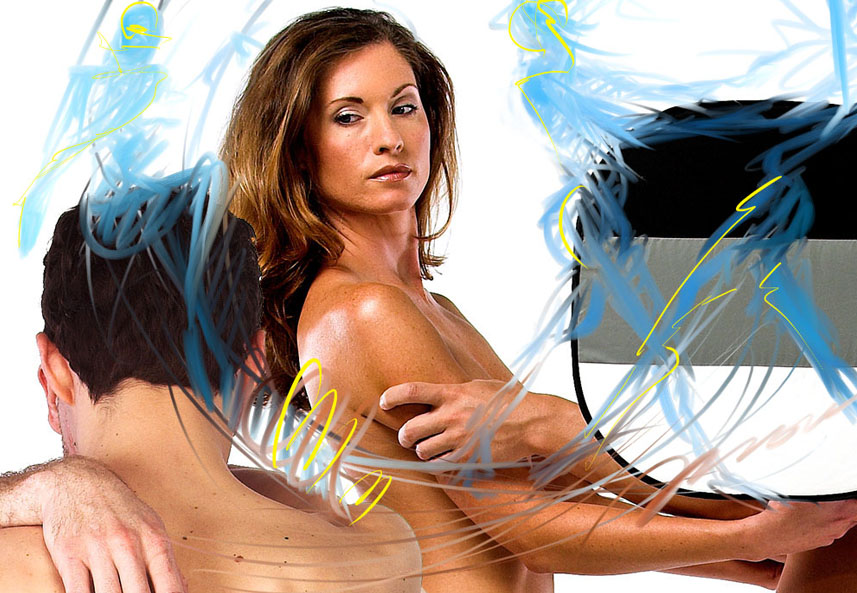 Eventually, Virtual Pose ® would commit to going totally green by offering new,
as well as remastered content, via online download only.
Below is a bird's-eye view of our ONLINE collections (download only)
2 male & 6 females models
The A-la-Carte Collection
1 male model & 3 female models
Our clothed collection of poses is great for artists of any age!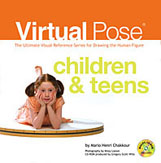 3 male & 3 female clothed models
Technical Support Notes Summary:

iOS Users: Virtual Pose ® is iPhone and iPad compatible! (This notice only concerns the QTVR collection)
In order to operate the QTVR movies on your device, you can purchase an application called QuickPano (around 6 dollars), and install a free version of iZip (both available through the Apple® store).
Then, download any ZIPPED poses from our online store, extract it in iZip, then from within iZip choose "Open In," which prompts the "Open in QuickPano" window, and that's it. Or upload QTVR movie files to your Dropbox, then download them to QuickPano.
Virtual Pose ® is MAC/ PC/ iPhone/ iPad compatible!


For both the Macintosh and PC-Compatible desktop or laptop computer, you can download the QuickTime movie player version 7, available on Apple's website. YES, you may have more than one version of QuickTime versions; for example, if you have QT player version 10, you may download and operate an older version. BEWARE: NOT ALL WINDOWS® versions are compatible with QTVR. That is why we HIGHLY recommend the DEVAL PLAYER for PC's. To download the DEVAL PLAYER for PC's, visit this page: http://www.devalvr.com/index.php/en/discontinued and click on the link provided at the very bottom.
PC-USERS, please note: even though the DEVAL PLAYER is discontinued, which ONLY means no new versions will be introduced, the legacy version should work just fine. If you're unsure, please REGISTER with us and download one of our many free samples to test your setup. Remember that purchasing any of our poses means you agree to our TERMS of USE.
Kindly note: This site and the links therein, contain tasteful artistic nudity which may not be appropriate for viewing in certain countries.
Also, we ask that you do not enter this site if you are younger than 18. Parental Guidance is suggested. Copyright © 1998 - 2015 by StudioView Interactive, LLC